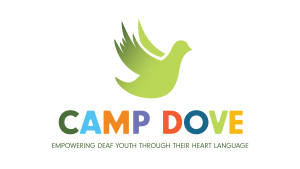 This is an in-person event.
Contact Name
Mary Kathryn Wolfe
Contact Phone
(706) 614-3533 (Voice, Text)
Alternate Contact
Judi Oliver
Alternate Phone
(706) 614-3568 (Text)
Event Type
Camps,
Children Programs,
Social Activities
Hello from Nashville, TN!
I'm so excited to share with you that, after 20 years in Georgia, Camp DOVE will be launching its newest camp to be held in Tennessee!  We need your help to spread the word and give Deaf children the opportunity to experience an overnight camp in their heart language.  
Camp will take place April 28-30, 2023 at Deer Run Campground in Franklin, TN. Check out the website here and register today!  
If you have any questions please don't hesitate to reach out to me via email, voice phone or ASL Facetime. 
Thank you!
Mary Kathryn Wolfe, MMFT
Marketing Coordinator 
Camp DOVE Alumni 
706-614-3533