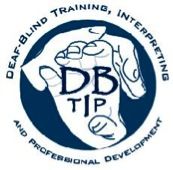 Your computer!
United States
Region
National,
Middle,
Northeast,
Southeast,
West,
East
Event Type
Accessible Programs,
Conferences,
Deaf-Blind Programs,
Workshops
"The DeafBlind Community: Communication, Trends & Techniques"
The First-Ever Online National DeafBlind Conference!
An exciting conference that brings experts into your home or office.
~No travel or special technology required.
~Access requires computer with high speed internet.
~No webcam required!
For more information about presenters, the conference schedule, and sponsors go to http://issuu.com/dbtip/docs/db-tip_2015_conference_program_27f12b702dc2f1/0. 
Three Ways to Register:
Saturday & Sunday January 24-25
$150 — 2 days
Saturday, January 24 ONLY
$90 per day
Sunday, January 25 ONLY
$90 per day
Register online at http://deafblindtip.com/onlineconference.html
*CMP Sponsor - Northeastern Regional Interpreter Education Center
*CEUs:
.45/day
.90/2 days