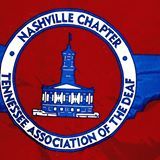 This is an in-person event.
Emmanuel Lutheran Church
1003 Hickory Hill Lane
Hermitage, TN 37076
United States
Email Address
klyttapck@gmail.com
Contact Phone
615.970.7633 (Video Phone)
Event Type
Meetings,
Social Activities
NCTAD meets the 1st Saturday of the month at Emmanuel Lutheran Church, 1003 Hickory Hill Lane, Hermitage, TN  37076
10:00 AM - 2:00 PM
There will be a Thanksgiving dinner! Bring $10 and a covered dish item to share.