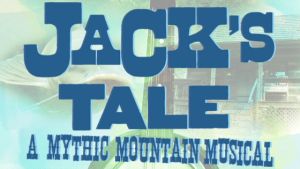 This is an in-person event.
Nashville Children's Theatre
25 Middleton Street
Nashville, TN 37210
United States
View on Google Maps
Contact Phone
615-252-4675 (Voice)
Event Registration (if available)
Event Type
Accessible Programs,
Children Programs,
Social Activities,
Theater
Book by Scot Copeland
Music by Paul Carrol Binkley
Lyrics by Paul Carrol Binkley and Scot Copeland
Everybody knows Jack!  Old King is lookin' to get the best of him, but Jack's a clever'un who ain't afeared of hard work nor Bluebeard Giants nor Raggedy-Bones his own self.  He'll outfox that Old King, he'll win the heart of Old King's Daughter, and he'll carve out a brand new world with his own two hands.  Inspired by the old-tyme tales and music of the Appalachians, NCT's own Scot Copeland and Paul Carrol Binkley have nursed this labor of love for several years, through its various phases of workshop presentations. Thanks to a co-commission with the John F. Kennedy Center for the Performing Arts, the authors are taking Jack one last step to glory.  
NCT will premiere this uniquely southern piece with our own actors and a live string quartet for one-week only at The Kennedy Center in Washington, D.C. before Jack comes home to NCT, bringing with him this authentic gem of a mountain musical as sweet, dark and rich as the soil from which it sprang.
Appropriate for families with children of all ages.
Approximate runtime: Approx. 75 minutes plus a 10 minute intermission at weekend performances.
Sunday, March 1st offers a sign-interpreted performance.