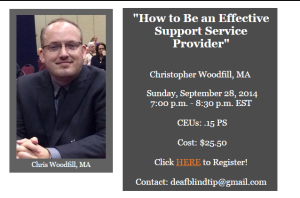 Your Computer!
United States
Event Type
Deaf-Blind Programs,
Education,
Interpreting,
Workshops
WORKSHOP OVERVIEW:
This webinar will provide information to people who are new to the deaf-blind community or want to brush up their skills on how to be effective Support Service Providers (SSPs). Training topics include: overview of the Deaf-Blind community & cultural aspects, common communication methods used by deaf-blind people & roles and expectations of an SSP & strategies that empower Deaf-Blind people while providing SSP services.  The session will be co-presented from a Deaf-Blind consumer's perspective on the use of SSPs and that of an experienced SSP. Content covered will be introductory and further hands-on practice will be necessary to apply the information learned.
CEUs: .15 PS
Cost: $25.50
Not available Sunday? No problem!
View the session at a time that's convenient to you!
See below for details!
For more information and to register click here.