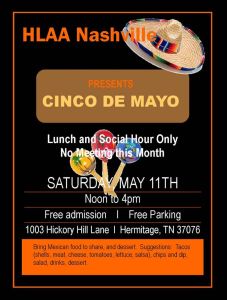 This is an in-person event.
Emmanuel Lutheran Church
1003 Hickory Hill Lane
Hermitage, TN 37076
United States
Contact Name
Colleen Turner
Email Address
hlaanashvillechapter@gmail.com
Free admission and free parking.  
Please bring a food to share and dessert.  Suggestions include tacos (with all the fixings), chips and dip, salad, drinks, and dessert.
There will be no meeting, just time to socialize.