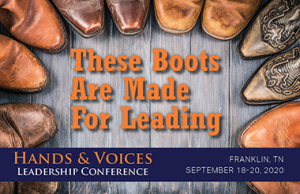 This is an in-person event.
Franklin Marriott Cool Springs
700 Cool Springs Blvd.
Franklin, TN 37067
United States
Region
National,
Statewide,
Middle,
Northeast,
Southeast,
West,
East
Event Type
Conferences,
Parent Programs,
Professional Development
THIS CONFERENCE HAS BEEN RESCHEDULED FOR THE FALL OF 2021. INFORMATION WILL BE UPDATED AS IT BECOMES AVAILABLE.
A Conference for H&V Chapter Leaders, H&V GBYS and ASTra Programs, Family Based Organizations, Parents of Children who are Deaf or Hard of Hearing, and the Professionals Who Work with Us
Exciting Leadership Topics!
• Building Cultural Resiliency in a Diverse Community
• Developing Parent Leaders: Where do Professionals Fit in?
• Influence vs Authority: Expanding your Influence to Create Giants of Others
• And more: Leading with joy, homeschooling, mental health, non-profit management, balancing life and leadership…
The Hands & Voices Leadership Conference brings together family leaders from all over the world to develop skills, to receive training on providing leadership to others and to impact local systems. It is the only conference of its kind devoted exclusively to teach family members with children who are deaf or hard of hearing to be effective agents of change.
This conference is an excellent time to network and learn. Please help us build our audience by extending an invitation to a favorite teacher, your EHDI Coordinator, an important school administrator or families with children who are deaf or hard of hearing. If you are not involved in specific activities for Hands & Voices, this is still a fantastic conference containing up-to-date information, fascinating conversations, and exploration of content in a new and exciting way.  Please join us!
The H&V Leadership Conference Registration
$395 - Full general conference
$275 - Saturday Only
$275 - Student - full general conference
- Early Bird Ends August 16th, 2021 -
Registration prices increase by $50.00 on August 17th, 2027
*Housing is not included in price.
CANCELLATION & REFUND POLICY: Refunds will be made to those registrants who cancel, less a $75 processing fee. Written cancellation requests must be received on or before August 16, 2020. No refunds will be made after August 16th, 2020. Substitutions are welcome at no charge. Please EMAIL cancellations to Jeannene@handsandvoices.org
Please note:  We are closely monitoring the CO-VID 19 Pandemic. As of now, we are planning to have an in-person conference.  We are following state and federal guidelines and recommendations. The safety of our staff, attendees, and conference center employees will be our number one priority. In the event we must cancel an in-person conference due to mandatory state and or federal guidelines the following refund policy will be implemented: Full refund of conference registration fees less a .05 percent processing fee will be implemented. Hands & Voices will only refund the cost of registration. No other travel costs will be refunded by Hands & Voices.
The Leadership Conference runs Friday through Sunday, September 17-19, 2021.
General Registration includes:
Friday 6:00 pm to 9:00 pm
(Includes light meal and opening session/activities)
Saturday 7:00 – 4:30 pm sessions
(Includes breakfast.  Lunch available to purchase on-site)
Sunday 7:30 – 12:30 pm sessions
(Includes breakfast)
Hotel Information--
SPACE IS LIMITED – REGISTER NOW!
Special Room Rate Available until August 17th—$139.00 per night
Book your group rate for Hands and Voices Sept 2021
For more conference information please visit the website - link provided below