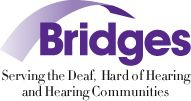 This is an in-person event.
Bridges
935 Edgehill Avenue
Nashville, TN 37203
United States
Email Address
tracy@bridgesfordeafandhh.org
Contact Phone
615-649-0605 (Video Phone)
Alternate Phone
615-248-8828 (Voice)
Event Info / Registration Address
Please call for an appointment.  There may be long lines if you just walk in without an appointment.
Interpreters will be provided.