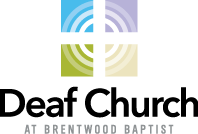 This is an in-person event.
Brentwood Baptist Deaf Church
7777 Concord Rd.
Brentwood, TN 37027
United States
Contact Name
Kimwanis Jordan
Email Address
KJordan@brentwoodbaptist.com
Contact Phone
(615) 656-8646 (Video Phone)
Alternate Phone
(615) 324-6103 (Voice)
Event Type
Featured,
Religious,
Social Activities
BBDC will have an Easter Brunch at 9:30  to 10:15 am on April 20, 2014.  BBDC will provide milk, chocolate milk, orange and grape juices. Also coffee will be available.
Note to adults:  Please bring your favorite breakfast food-anything that sounds good to you that you'd like to share with others. Please do not bring too much sweet stuff.  It would be nice to bring good, healthy breakfast food which we will all enjoy as we share a time of  fellowship before we go in to church service. Look forward to seeing you all soon on Easter Morning.