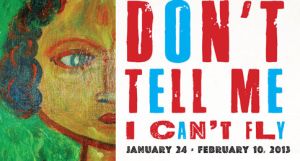 This is an in-person event.
Nashville Children's Theatre
25 Middleton St
Nashville, TN 37210
United States
View on Google Maps
Contact Phone
615-254-9103
Event Type
Theater,
Social Activities,
Children Programs
Saturday, Jan 26 is an open-captioned performance of NCT's Don't Tell Me I Can't Fly. Meet Tonia – an artistic 9 year-old with fantastic dreams of a giant future. Tonia's mom wants her to be like a doll, perfectly mannered and always the same age. Tonia's dad wants her to blend into the crowd in a world where African-Americans who stand tall are easier to cut down. This regional premiere is an engaging and humorous look at family life inspired by the life and work of collage artist Della Wells. Approximate Runtime: 90 minutes (weekend performances have an intermission) Open captioning uses a text display to provide a simultaneous transcription of dialogue, lyrics, and sound effects during a live performance. The service is open to everyone for viewing in a designated seating area. Open-Captioning is co-sponsored by Tennessee Captioning.