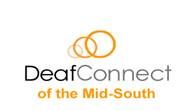 This is an in-person event.
Kirby Woods Baptist Deaf Church
6325 Poplar Avenue
Memphis , TN 38119
United States
Contact Name
DeafConnect of the Mid-South
Contact Phone
(901) 278-9307 (Voice)
Event Registration (if available)
Event Type
Meetings,
Social Activities
Do you have any issues, concerns, or struggles? Do you have any questions for DeafConnect? What services do you wish DeafConnect could offer you? Do you want to  meet the new Executive Director? If you waid "Yes" to any of the questions, please come to Deafconnect's Town Hall Meeting.