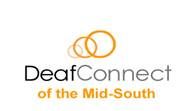 This is an in-person event.
DeafConnect of the Mid-South
144 N. Bellevue Blvd.
Memphis, TN 38104
United States
Contact Phone
901-278-9307 (Voice)
Event Registration (if available)
Event Type
Accessible Programs,
Education,
Health & Wellness,
Meetings
Come learn more about your health and medication safety  from the University of Tennessee College of Pharmacy. Information will be shared on heart health, Blood Pressure Screenings, Diabetes health, over the counter medication education and safety, and Women's health.
Interpreters will be provided.