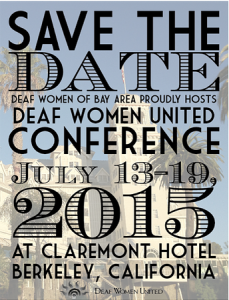 This is an in-person event.
Claremont Resort & Spa
41 Tunnel Rd
Berkeley, CA 94705
United States
Deaf Women of Bay Area (DWBA) proudly announce that they have formally secured location and dates for the 2015 Conference!
Visit 2015 DWU Conference website to register, participate as a speaker, or just simply learn more about the event.
In the meantime, if you would like to receive email updates or join the committee, please contact the chair at DWUConference2015@gmail.com.
You can also keep track of updates by following:
Twitter: @DWBA2015
Facebook: @DWU2015Conference
Instagram: @DWBA2015