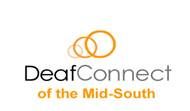 This is an in-person event.
Contact Name
DeafConnect of the Mid South
Contact Phone
901-278-9307 (Voice)
Alternate Phone
901-620-6062 (Video Phone)
Event Type
Accessible Programs,
Children Programs,
Parent Programs,
Silent Gatherings,
Social Activities
Come celebrate Deaf Awareness Month at Mud Island on September 17th from 10am-4pm for FREE! There will be museum tickets, educational and fun activities for adults and children, and more.
Contact DeafConnect for more information.