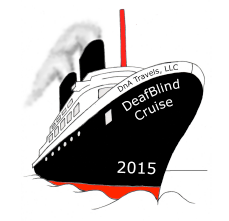 This is an in-person event.
ROYAL CARIBBEAN - Port of Miami
1015 N. America Way
Miami, FL 33132
United States
Contact Name
Angela Ziebol, Dna Travels, LLC
Email Address
Angela@DnATravels.org
Contact Phone
(808) 557-1434 (Voice)
Alternate Contact
Dna Travels, LLC
Alternate Phone
(916) 243-0936 (Video Phone)
Event Type
Accessible Programs,
Deaf-Blind Programs,
Social Activities
BAHAMAS CRUISE FOR DEAFBLIND, DEAF, FAMILES AND FRIENDS FOR FIVE DAYS AND FOUR NIGHTS OF FUN
AND ADVENTURE. DEPART MIAMI, FLORIDA ON MAY 18, 2015. RETURN MIAMI, FLORIDA ON MAY 22, 2015.
Cruise ROYAL CARIBBEAN – MAJESTY OF THE SEAS with excursions to Nassau, CocoCay, Key West and Miami.
The Bahamas have so much  to offer. Explore the underwater world, swim and snorkel in the warm waters.
Explore the private island - Cococay, sunbathe and have fun with you friends.
Prices include cabin, most meals, most beverages & on-board entertainment and a T-shirt.
Sign Language interpreters available.
Contact us about SSP information.
Prices start at  $434.00 per person based on double occupancy room. $75.00 non-refundable check deposit per person reserves your cabin. Final payment due on February 1, 2015.
This special cruise is hosted by DnA Travels, LLC.
Go to WWW.DNATRAVELS.ORG and click on the DEAFBLIND CRUISE webpage.