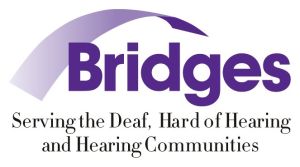 This is an in-person event.
Bridges
935 Edgehill Avenue
Nashville, TN 37203
United States
Email Address
mh@hearingbridges.org
Contact Phone
615-248-8828 (Voice, TTY)
Alternate Phone
615-290-5147 (Video Phone)
Event Info / Registration Address
ASL II $90, Maximum number of students to be determined.
Level Two is a continuation of ASL grammar and vocabulary, Deaf culture and conversational practice.
This class covers the second half of the course book.