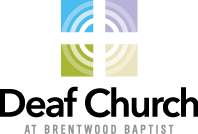 This is an in-person event.
Fannie Mae Dees Park
2400 Blakemore Avenue
Shelter 1
Nashville, TN 37212
United States
Contact Name
Brentwood Baptist Deaf Church
Email Address
bbdc@brentwoodbaptist.com
Contact Phone
(615) 290-5156 (Video Phone)
Alternate Contact
Kimwanis Jordan
Alternate Phone
(615) 656-8646 (Video Phone)
Event Info / Registration Address
Event Type
Accessible Programs,
Social Activities
Join the Deaf Church of Brentwood Baptist for a community picnic on August 9, 2014 at 10:00am. We will meet at Shelter 1 in Fannie May Dees Park. The address is 2400 Blakemore Ave in Nashville.  Hot dogs, hamburgers & drinks will be provided for free. Cakes, cookies and drinks will be available to be auctioned and/or purchased.  Come, have fun, meet old and new friends and meet our new Pastor Aric and his family.