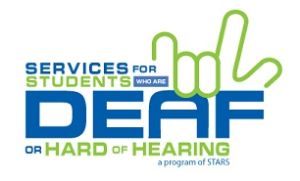 This is an in-person event.
Camp Hillmont
975 Hillmont Camp Rd
White Bluff, TN 37187
United States
Region
Statewide,
Middle,
Northeast,
Southeast,
West,
East
Email Address
DHH@starsnashville.org
Vlog Link (if available)
https://www.youtube.com/watch?v=jyoPjNw8qaU&feature=youtu.be
Event Info / Registration Address
Event Type
Camps,
Career / Employment,
Children Programs,
Education
Join us for the second annual FREE all-inclusive retreat opened to all 9th-12th grade students who are deaf and hard or hearing in Tennessee. At the retreat, students will get assistance filling out college applications and job applications as well as learn from successful Deaf/HH adults about their college and work experiences.
The retreat will be held at Camp Hillmont in White Bluff, TN. Transportation is available from Nashville to and from the retreat. Detailed information will be sent August, 2014. Email DHH@starsnashville.org for more information.