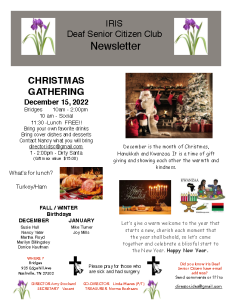 This is an in-person event.
Bridges for the Deaf/Hard of Hearing
935 Edgehill Ave.,
Nashville, TN 37138
United States
Contact Name
Amy Stockard
IRIS DEAF SENIOR CITIZEN CLUB is hosting a Christmas gathering at Bridges for the Deaf and Hard of Hearing on December 15, 2022 from 10 am to 2 pm. Bring your own favorite drinks and cover dishes and desserts to share. Contact Nancy what you will bring. We will provide Turkey/Ham and you provide side dish. We will have Dirty Santa (gift max value $15.00).