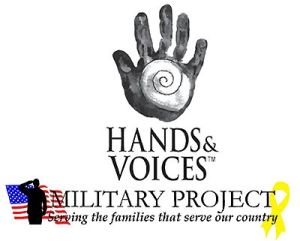 Region
National,
Statewide,
Middle,
Northeast,
Southeast,
West,
East
Event Type
Parent Programs,
Professional Development,
Webinars
TIME:  12 pm CT / 1 pm ET
Calling all family leaders and professionals who work with families of D/HH children living the military lifestyle! (Families welcome!)
- Learn how challenges for D/HH children and their families are compounded by the military lifestyle and vice versa.
- Through an interactive exercise, obtain a sense of how the military lifestyle compounds the challenges of repeatedly establishing medical & educational homes for families with D/HH children.
- Learn how to best support military families with D/HH children through local resources, military programs, and the Hands & Voices network.
 
PLEASE REGISTER AT:
https://tinyurl.com/HV-boots