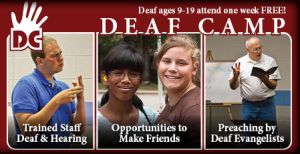 This is an in-person event.
Bill Rice Ranch
627 Bill Rice Ranch Road
Murfreesboro, TN 37128
United States
Event Info / Registration Address
Event Type
Camps,
Children Programs,
Religious
This is a Christian based camp for kids ages 9-19. Kids can register for a free week of camp.  There are many opportunities for fun on the Bill Rice Ranch. We offer a sports tournament (basketball, volleyball, softball, and flag football) as well as other unique games. Deaf campers may also enjoy a horse ride, putt-putt, swimming, a hike, or simply talking with deaf friends from around the country at Cowboy Town.