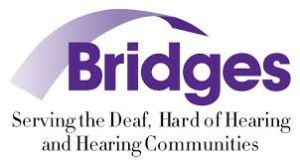 This is an in-person event.
Bridges
935 Edgehill Avenue
Nashville, TN 37203
United States
Email Address
mh@bridgesfordeafandhh.org
Contact Phone
615-290-5147 (Video Phone)
Alternate Contact
Bridges
Alternate Phone
615-248-8828 (Voice, TTY)
Event Info / Registration Address
Event Type
Education,
Featured,
Sign Language Classes
Level One ASL
Last Day to Register - May 30, 2014
Level One is an introduction to American Sign Language (ASL) grammar and vocabulary, Deaf culture, equipment and devices. This course covers the first half of the course book.
Cost: $110 ($90 Instruction Fee + $20 course book)
Tuesday Evenings
5:30 p.m. – 6:45 p.m.
12-week session
June 3rd – August 19th, 2014
Registration closes May 30, 2014.  For more information, contact Mike Helms at mh@bridgesfordeafandhh.org
Download the registration form and brochure here.