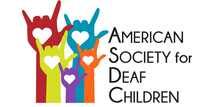 This is an in-person event.
Region
National,
Statewide,
Middle,
Northeast,
Southeast,
West,
East
Event Type
Children Programs,
Conferences,
Parent Programs
THEME:  Take the Sign-Seeing Route
This year, ASDC is putting on a family conference like no other! Instead of holding to the traditional format of two full days of speakers, we are doing something different. We will get together for short presentations in the morning, and then your whole family will head off for a fun-filled afternoon field trip, accompanied by a Deaf ASL role model. Choose from a variety of "sight/sign-seeing" field trip destinations – transportation is provided! See the schedule below for details or register here.
Check the weblink below for information on the Schedule,  Speakers, Registration, Hotel, Activities and Field Trips!