Around the World in 80 Days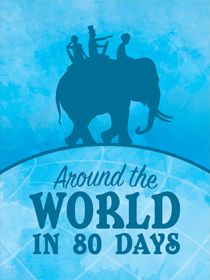 This is an in-person event.
The Clarence Brown Theatre
1714 Andy Holt Aveneue
Knoxville, TN 37916
United States
View on Google Maps
Region
Northeast,
Southeast,
East
Contact Name
The Box Office
Contact Phone
865-974-5161 (Voice)
Event Type
Accessible Programs,
Interpreting,
Social Activities,
Theater
Bursting with imagination, this exuberant whistle-stop tour through Verne is a trip worth making.
The intrepid Phileas Fogg with his loyal valet, Passepartout, voyage from Victorian London through the Indian subcontinent, to Asia and across the Pacific to America on a wager that he will return in precisely 80 days. Literally, a theatrical tour-de-force.
This production may employ the use of theatrical haze and/or fog. Interpreting available.