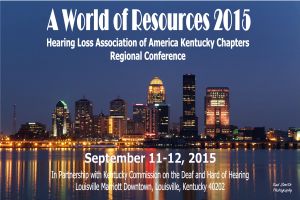 This is an in-person event.
Louisville Marriott Downtown
280 West Jefferson Street
Louisville, KY 40202
United States
Event Registration (if available)
Event Type
Accessible Programs,
Conferences,
Education,
Health & Wellness,
Interpreting,
Social Activities,
Workshops
You are invited to attend the Hearing Loss Association of America Kentucky Chapters Conference which will be held on September 11-12, 2015 at the Louisville Marriott Downtown, 280 West Jefferson Street. Our two-day educational program is presented by our membership and our partner the Kentucky Commission on the Deaf and Hard of Hearing, to bring better living through information and support in the areas of technology, treatment, and coping skills. The workshops and exhibits will greatly benefit people with hearing loss who seek greater accessibility in all areas of their lives along with their families, friends, and the professionals who work with them. For the sponsorships we received to make this event possible, we are most grateful.
Attending the conference will benefit the lives of proactive people with hearing loss who seek ways to eliminate obstacles so as to more effectively pursue their individual goals. Please join us as we look forward to sharing this world of resources with you!
For current information on the conference visit our website; http://hlaa-ky.org/