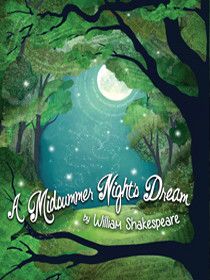 This is an in-person event.
Clarence Brown Theatre
1714 Andy Holt Ave
Knoxville, TN 37916
United States
Contact Name
Clarence Brown Theatre Box Office
Contact Phone
(865) 974-5161
Event Type
Accessible Programs,
Social Activities,
Theater
Hermia loves Lysander and Helena loves Demetrius – but Demetrius is supposed to be marrying Hermia. When the Duke of Athens tries to enforce the marriage, the lovers take refuge in the woods and wander into a dispute between the king and queen of the fairies. In Shakespeare's family-friendly comedy, anything is possible when young lovers – human and fairy royalty – and an amateur theater troupe reel through romance and spell craft in a moonlit Athenian forest.
For more information about the ASL interpreted performance of A Midsummer Night's Dream click here. 
To purchase tickets go to http://clarencebrowntheatre.com/plays/a-midsummer-nights-dream/.
*Captioning is provided at Clarence Brown on the first Sunday showing of each play at 2:00pm.