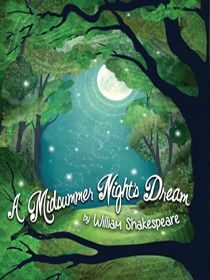 This is an in-person event.
Clarence Brown Theatre
1714 Andy Holt Ave
Knoxville, TN 37916
United States
Contact Name
Clarence Brown Theatre Box Office
Contact Phone
(865) 974-5161
Event Type
Accessible Programs,
Social Activities,
Theater
Hermia loves Lysander and Helena loves Demetrius – but Demetrius is supposed to be marrying Hermia. When the Duke of Athens tries to enforce the marriage, the lovers take refuge in the woods and wander into a dispute between the king and queen of the fairies. In Shakespeare's family-friendly comedy, anything is possible when young lovers – human and fairy royalty – and an amateur theater troupe reel through romance and spell craft in a moonlit Athenian forest.
This event is produced through a partnership with UT's Center on Deafness and is designed to be fully accessible for members of the Deaf community with over a dozen interpreters stationed throughout the facility and two teams interpreting the production. Patrons ordering single tickets who need interpreted section seating should contact the Box Office (865) 974.5161 as this is not available online.