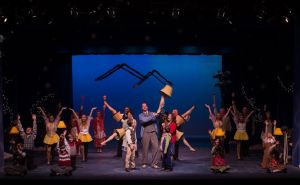 This is an in-person event.
Chattanooga Theatre Centre
PO Box 4023
Chattanooga, TN 37405
United States
Contact Phone
(423) 267-8534 (Voice)
Event Type
Accessible Programs,
Social Activities,
Theater
America's most beloved holiday movie is now a Big Broadway musical!  Back this holiday season by popular demand!  This is a bright, bouyant, musical retelling of the cherished and much-repeated family comedy.  All of the best-loved moments from the holiday film are in the production, including the leg lamp, the tongue-on-a-flagpole, the bunny suit, the Santa slide and all of Ralphie's extravagant daydreams.  A New York hit at holiday time, all the fun is right here at home again this year, complete with dazzling dance numbers, scrumptious songs, and an incredibly talented cast of youngsters (and adults!).