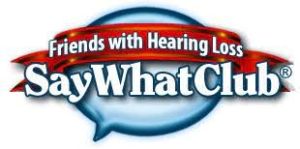 This is an in-person event.
Drury Plaza Hotel
300 Korean Veterans Blvd.
Nashville, TN 37201
United States
View on Google Maps
Region
National,
Statewide,
Middle,
Northeast,
Southeast,
West,
East
Event Registration (if available)
Event Type
Accessible Programs,
Conferences,
Featured,
Workshops
SayWhatClub is committed to providing a forum for the hard-of-hearing, deafened, and those otherwise concerned with hearing loss. We are dedicated to maintaining an environment promoting hope, self-worth, knowledge, and growth with consideration for individuals and the SWC community.
About the Convention: 
SayWhatClubbers have been gathering annually since 1996! The convention offers an opportunity for those who belong to our online community to meet face-to-face.  Family members are also welcome and encouraged to attend. Whether you are a part of our online groups, or not, you'll feel empowered by spending time with others who 'get' you, and who believe there is no right or wrong way to live with hearing loss and deafness.
Convention Registration Information:  https://www.saywhatclub.org/saywhatclub-convention/convention-registration/
Registration Fees:  
Early-bird registration fees are in effect until April 30, 2022. Fees are $200 for an individual SWC subscriber or $300 for a couple, or $225 for an individual non-subscriber of $350 for a couple. The registration fee includes the Wednesday evening Welcome Party, all Thursday and Friday workshops, and the Saturday evening banquet.
Hotel Information:  https://www.saywhatclub.org/wp-content/uploads/2022/01/Say-What-Club-Online-Booking-Link-12-10-2021.pdf
Scholarships (Deadline:  April 1, 2022):  https://docs.google.com/forms/d/1RHfFSQXRkycbEweggH_X0VC89knpsRoUcBWB9X2PjO4/viewform?ts=620812cf&edit_requested=true
Schedule-at-a-Glance and more information available on the website.