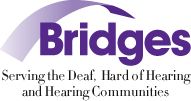 This is an in-person event.
Bridges
935 Edgehill Avenue
Nashville, TN 37203
United States
Contact Name
Lacey Mathis
Email Address
lm@bridgesfordeafandhh.org
Event Type
Fundraisers,
Social Activities
Bridges Youth Program invites the public to a fun filled evening of fine food and superb socializing.
Bring your friends and family. $10 per person, 10 years and under FREE.