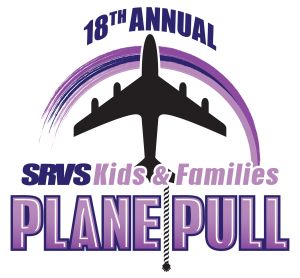 This is an in-person event.
Millington Regional Jetport
8182 Hornet Avenue
Millington, TN 38053
United States
View on Google Maps
Contact Name
Dynisha Woods
Contact Phone
901-869-9284
Event Type
Children Programs,
Deaf-Blind Programs,
Fundraisers,
Health & Wellness,
Social Activities
Join us on Saturday, October 25, 2014 at the 18th Annual SRVS Kids & Families Plane Pull!  This event is the ultimate test of strength:  teams of 25 compete in a friendly competition to see how fast they can pull a FedEx Boeing 757 aircraft weighing in at over 130,000lbs. The team that pulls the plane 12 feet in the fastest time wins!  This event benefits SRVS Kids & Families and is being held in partnership with FedEx and the Millington Regional Jetport.
Gates Open at 9am
Opening Ceremonies begin at 9:30am
Main Event begins at 10:00am
This is a family-friendly event, so bring everyone out to the runway to cheer you on. Enjoy food, fun, and tons of activities for the kids:
Inflatables
Face painting
Carnival Games
Door Prizes
Fire Truck & Vehicle Tours
Music & More
For more information go to http://www.srvs.org/.
If you have additional questions or if interested in sponsorship and volunteering opportunities, contact Dynisha Woods at 901-869-9284 or dynisha.brownwoods@srvs.org.