REGISTRY OF INTERPRETERS FOR THE DEAF, INC.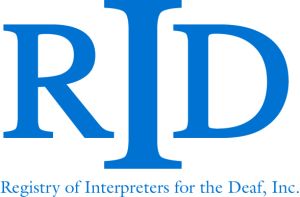 Description Of Services:
The Registry of Interpreters for the Deaf, Inc. (RID), a national membership organization, plays a leading role in advocating for excellence in the delivery of interpretation and transliteration services between people who use sign language and people who use spoken language. In collaboration with the Deaf community, RID supports our members and encourages the growth of the profession through the establishment of a national standard for qualified sign language interpreters and transliterators, ongoing professional development and adherence to a code of professional conduct.
RID's online search tools can be used to identify RID members, interpreter training programs, interpreter agencies or professional development opportunities. To search for freelance interpreters in your area go to https://myaccount.rid.org/Public/Search/Member.aspx