ASL Interpreted Architecture Tour at the Frist Art Museum - Temporarily Suspended
Repeats every month on the first Saturday 100 times except Sat Dec 01 2018.
Saturday, June 4, 2022 - 4:30pm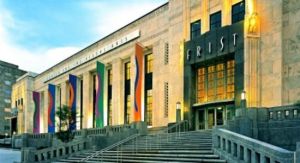 All group tours (including docent-led and self-guided) are temporarily suspended

Architecture Tour with ASL Interpretation
4:30 p.m.
Meet in the Frist Art Museum's Grand Lobby

Free!
Coming downtown to the First Saturday Art Crawl? Then start your evening at the Frist.
"When was the Frist Art Museum built? Who was the architect? Can you tell me about the floors in the galleries?" These are just some of the questions answered in the Frist's popular architecture tours. Stroll around the Frist Art Museum as you learn more about our landmark building from one of our always-engaging docents.
Certified American Sign Language interpreters will be available for this tour. No advance reservation is required.

ASL interpretation is generously supported by Bridges, a Nashville-area nonprofit resource for deaf, hard of hearing, and hearing communities. Architecture tours are sponsored by Messer Construction.