"Little Shop of Horrors"
Thursday, July 18, 2019 - 7:00pm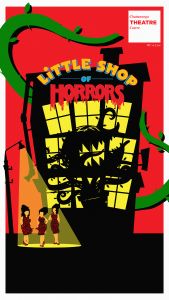 A deviously delicious Broadway and Hollywood sci-fi smash musical, "Little Shop of Horrors" has devoured the hearts of theatre goers for over 30 years. The meek floral assistant Seymour stumbles across a new breed of plant he names "Audrey II" after his co-worker crush. This foul-mouthed, R&B-singing carnivore promises unending fame and fortune to the down-and-out Seymour as long as he keeps feeding it blood. Over time, though, Seymour discovers Audrey II's out-of-this-world origins and intent towards global domination. RATED PG-13
This performance will be open captioned.
Ticket prices:  $11 - $25 (Please click here to purchase tickets.)