HLAA Nashville Chapter Meeting
Saturday, November 10, 2018 - 12:00pm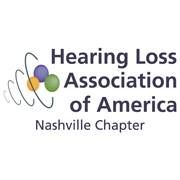 We will have our annual Thanksgiving luncheon with turkey or ham.  Please bring a side dish to share -- hot dishes, trimmings, salads, dessert or drinks. We will have lunch at Noon, and our Chapter meeting and speaker begin at 1:30 pm.  See flyer for more details.
Feel free to bring a friend, and a dish to share!
Donice Kaufman, Outreach Manager with Sprint Tennessee Relay Service, will be here to speak on the latest products/services they have to offer for the Deaf, Hard of Hearing, and Deaf/Blind.  Please give her a hearty welcome at our meeting!
We meet the 2nd Saturday of each month. Come join us to mingle with other adults with hearing loss! 
Our meeting space at Emmanuel always has room for more non-perishable food/toiletries/drinks for the food pantry at the Church.  Both small and large contributions are always welcome!