"Love Never Dies" at TPAC
Sunday, June 24, 2018 - 1:00pm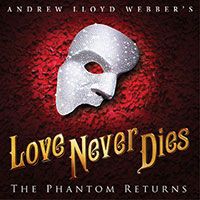 Tennessee Performing Arts Center (TPAC)
Nashville,
TN
37243
Interpreted in American Sign Language and Open Captioned
Seats in the orchestra for $80 are now on hold for patrons who use these services and their companions. Please buy your tickets by 5 p.m. on Friday, June 1, to take advantage of this special offer.

Running time is 2 hours and 25 minutes, with one intermission.
The ultimate love story continues in Love Never Dies, Andrew Lloyd Webber's spellbinding sequel to The Phantom of the Opera.
The year is 1907. It is 10 years after his disappearance from the Paris Opera House and the Phantom has escaped to a new life in New York where he lives amongst the screaming joy rides and freak-shows of Coney Island. In this new electrically-charged world, he has finally found a place for his music to soar. All that is missing is his love – Christine Daaé. Now one of the world's finest sopranos, Christine is struggling in an ailing marriage to Raoul. So, it is with excitement she accepts an invitation to travel to New York and perform at a renowned opera house. In a final bid to win back her love, the Phantom lures Christine, her husband, and their young son Gustave from Manhattan; to the glittering and glorious world of Coney Island… not knowing what is in store for them….
Described by 'The Australian' as "The best thing Lloyd Webber has written in the quarter century since The Phantom of the Opera, Love Never Dies is a dazzling new production, which takes audiences on a thrilling rollercoaster ride of intrigue, obsession, and romance."
This story of boundless love, full of passion and drama, follows Andrew Lloyd Webber's The Phantom of the Opera, one of the most successful musicals of all time, which has now been seen by more than 130 million people worldwide and is the winner of over 50 international awards.
Ticketing Information:
Note that facility fees are not charged on purchases at the TPAC Box Office, open Monday through Friday, from 10 a.m. to 5:00 p.m. (when you provide your promo code at time of purchase).

1. For online purchases, click on here to go directly to the page to buy tickets.  Select 'SUN 6/24/18 1:00pm' as your chosen performance date.
2. Enter promo code TPACTICKET in the 'Enter Promo Code & Submit' field at the top right of the screen.

3. Click on the Orchestra section of the map to choose your seat(s).  Then proceed to cart and log in to your account (If you don't have an account with TPAC yet, you can make one by clicking 'Create Account' on the left of the login page).
The next season of TPAC plays will be announced on April 24, 2018.