"Wicked" at TPAC
Sunday, April 8, 2018 - 1:00pm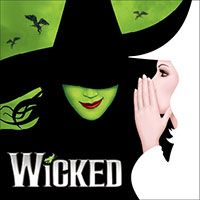 Tennessee Performing Arts Center (TPAC)
Nashville,
TN
37243
Interpreted in American Sign Language and Open Captioned
Seats in the Orchestra level for $101.50, are now on hold for patrons who use these services, and their companions. Please buy your tickets by 5 p.m. on Friday, March 9, to take advantage of this special offer.  Note that facility fees are not charged on purchases at the TPAC Box Office, open Monday through Friday, from 10 a.m. to 5:00 p.m. (when you provide your promo code at time of purchase).
1. For online purchase, click on this link to go directly to the page to buy tickets: https://patron.tpac.org/events/detail/wicked-2018-tpac
2. Click on the link in the upper right corner that reads "Have a promo code? Click here." Enter promo code TPACTICKET
3. Click on Buy Now next to the listing for Wicked.
4. Select the 'eligible for promotion' performance date and time of Sunday, March 9th, at 1:00 p.m. Click on "Select Your Own Seat" to make your own choice OR click on "Select a Section" and choose an option in the Performer's Circle Orchestra to continue the process to search for tickets.
So much happened before Dorothy dropped in.
Wicked, the Broadway sensation, looks at what happened in the Land of Oz…but from a different angle. Long before Dorothy arrives, there is another girl, born with emerald-green skin—smart, fiery, misunderstood, and possessing an extraordinary talent. When she meets a bubbly blonde who is exceptionally popular, their initial rivalry turns into the unlikeliest of friendships…until the world decides to call one "good," and the other one "wicked." With a thrilling score that includes the hits "Defying Gravity," "Popular," and "For Good," Wicked has been hailed by The New York Times as "the defining musical of the decade." Time Magazine cheers, "if every musical had the brain, the heart, and the courage of Wicked, Broadway really would be a magical place." From the first electrifying note to the final breathtaking moment, Wicked—the untold true story of the Witches of Oz—transfixes audiences with its wildly inventive story. It will send your spirits soaring to heights you'll never forget.
Other TPAC plays with that are interpreted and Open Captioned include:
-  Part of the Plan, September 17, 2017
-  Fun Home, October 15, 2017
-  An American in Paris, November 5, 2017

-  Les Misérables, November 19, 2017
-  The King and I, February 4, 2018
-  Cabaret, March 4, 2018
-  Wicked, April 8, 2018
-  Waitress the Musical, June 10, 2018
-  Love Never Dies, June 24, 2018