"The King and I" at TPAC
Sunday, February 4, 2018 - 1:00pm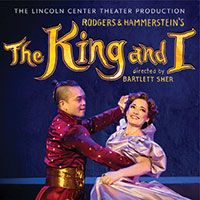 Tennessee Performing Arts Center (TPAC)
Nashville,
TN
37243
Interpreted in American Sign Language and Open Captioned
Seats in the lower orchestra for $80 are now on hold for patrons who use these services. Please buy your tickets by 5 p.m. on Friday, January 19, to take advantage of this special offer.
Running time is 2 hours and 55 minutes, with one intermission.

Winner of the 2015 Tony Awards for Best Revival of a Musical and Best Costumes, the Lincoln Center production is a showcase for Rodgers & Hammerstein's extraordinary contributions to American Musical Theatre.  The visual spectacle, set in the early 1860s, begins when a gigantic ship sails onto stage.  Newly widowed Anna and her son Louis are docking in Bangkok, Siam (now Thailand) after the long voyage from their native England. Still grieving, Anna has set her sights on a new adventure and taken a position as the schoolteacher for the royal offspring of the King of Siam. The King is determined to usher Siam into the modern world and believes that Western education can be a part of that. He also asks Anna to help him change his image in the West, where he is considered a barbarian.  Anna, however, is horrified by many of the traditions that he holds dear and they struggle to find common ground. Both keep a firm grip on their respective traditions and values, as they teach each other about understanding, respect, and love that can transcend the greatest of differences.

Again, tickets are on hold until 5 p.m. on Friday, January 19, for patrons who use American Sign Language and open captioning and their companions. Note that facility fees are not charged on purchases at the TPAC Box Office, open Monday through Friday, from 10 a.m. to 5:00p.m. (when you provide your promo code at time of purchase).

1. For online purchase, click on this link to go directly to the page to buy tickets in the designated section: https://patron.tpac.org/events/detail/the-king-and-i-2018-tpac
2. Click on the link in the upper right corner that reads "Have a promo code? Click here." Enter promo code TPACTICKET
3. Click on Buy Tickets.
4. Select the performance date and time of Sunday, February 4, at 1:00 p.m. and you will see the seats available. Click on "Select Your Seat" to make your own choice or click on "Select a Section" and choose an option in the Performer's Circle Orchestra to continue the process.
Other TPAC plays with that are interpreted and Open Captioned include:
-  Part of the Plan, September 17, 2017
-  Fun Home, October 15, 2017
-  An American in Paris, November 5, 2017

-  Les Misérables, November 19, 2017
-  The King and I, February 4, 2018
-  Cabaret, March 4, 2018
-  Wicked, April 8, 2018
-  Waitress the Musical, June 10, 2018
-  Love Never Dies, June 24, 2018