"Les Miserables" at TPAC
Sunday, November 19, 2017 - 1:00pm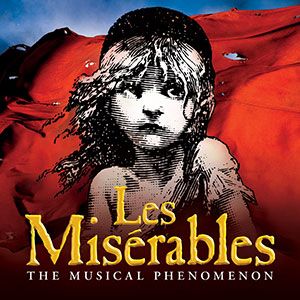 Tennessee Performing Arts Center (TPAC)
Nashville,
TN
37243
Interpreted in American Sign Language and Open Captioned
Seats in the orchestra for $72.50 (a significant $25 discount!) are now on hold for patrons who use these services. Please buy your tickets by 5 p.m. on Friday, October 27, to take advantage of this special offer.. Please buy your tickets by 5 p.m. on Friday, October 27, to take advantage of this special offer.
Running time is 2 hours and 50 minutes, with one intermission.
Set in early 19th-century France, Les Misérables is an epic tale of broken dreams, unrequited love, sacrifice, and redemption The Cameron Macintosh production is based on the novel by Victor Hugo, with music by Claude-Michel Schonberg and Alain Boublil. The show is anchored by Jean Valjean, a French peasant, and his quest for redemption after serving 19 years in jail for stealing a loaf of bread for his sister's starving child. Valjean breaks parole and attempts to restart his life, despite the relentless pursuit of Police Inspector Javert. More dramatic stories unfold as the people are swept into the French Revolution, including a group of young idealists who make their last stand with a street barricade. Ultimately, "Les Miz" is a testament to the survival of the human spirit.  One of the most popular productions in theatre history, the show has been seen by more than 70 million people worldwide.  Like The Phantom of the Opera, Les Misérables is a sung-through musical with no spoken dialogue.  Favorite audience songs include "I Dreamed A Dream," "On My Own," "Stars," "Bring Him Home," "One Day More," and "Do You Hear the People Sing?"
Note that facility fees are not charged on purchases at the TPAC Box Office, open Monday through Friday, from 10 a.m. to 5:00 p.m. (when you provide your promo code at time of purchase).
1. For online purchase, click on this link to go directly to the page to buy tickets: https://patron.tpac.org/events/detail/les-miserables-2017-tpac
2. Click on the link in the upper right corner that reads "Have a promo code? Click here." Enter promo code TPACTICKET
3. Click on Buy Now next to the listing for Les Miserables.
4. Select the 'eligible for promotion' performance date and time of Sunday, November 19, at 1:00 p.m. Click on "Select Your Own Seat" to make your own choice or click on "Select a Section" and choose an option in the Performer's Circle Orchestra to continue the process to search for tickets.
Other TPAC plays with that are interpreted and Open Captioned include:
-  Part of the Plan, September 17, 2017
-  Fun Home, October 15, 2017
-  An American in Paris, November 5, 2017
-  Les Misérables, November 19, 2017
-  The King and I, February 4, 2018
-  Cabaret, March 4, 2018
-  Wicked, April 8, 2018
-  Waitress the Musical, June 10, 2018
-  Love Never Dies, June 24, 2018