"Fun Home" at TPAC
Sunday, October 15, 2017 - 1:00pm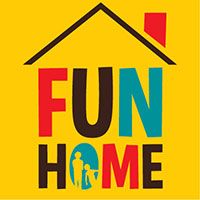 Tennessee Performing Arts Center (TPAC)
Nashville,
TN
37243
TPAC will offer American Sign Language for Fun Home on Sunday, October 15 at 1:00 p.m. in Andrew Jackson Hall.  Seats in the orchestra for $72 are now on hold for patrons who use these services. Please buy your tickets by 5 p.m. on Friday, September 22, to take advantage of this special offer.
This groundbreaking work is adapted from the best-selling graphic memoir by Alison Bechdel, a 2014 MacArthur Fellow.  The winner of the 2015 Tony Award for Best Musical, among dozens of honors, Fun Home explores the early years of the lesbian author and cartoonist.   In the creative staging, Alison appears as a child, college student, and adult. She goes back and forth in time, reflecting on her past, including her complex relationship with her secretive gay father, who taught high school English and operated a funeral home, nicknamed the fun home by his children.  The show contains strong language and mature themes and is recommended for adult audiences. Out of dozens of glowing reviews, The New York Times said "Fun Home isn't just a coming out story or a coming-of-age story. Its universality comes from its awareness of how we never fully know even those closest to us, and of the undercurrent of grown-up secrets…that exist to some extent in every family."
Running time is 1 hour and 45 minutes, with no intermission.
Again, tickets in the lower orchestra level are on hold through Friday, September 22 for patrons who use ASL or open captioning and their companions. Note that facility fees are not charged on purchases at the TPAC Box Office, open Monday through Friday, from 10 a.m. to 5:00p.m. (Providing your promo code at time of purchase). Whatever the method, please buy your tickets by Friday, June 9 to take advantage of the discount. 
1. For online purchase, click on this link to go directly to the page to buy tickets in the designated section.
2. Click on the link in the upper right corner that reads "Have a promo code? Click here." Enter promo code TPACTICKET
3. Click on Buy Tickets.
4. Select the performance date and time of Sunday, October 15 at 1:00 p.m. and you will see the seats available. Click on "Select Your Seat" to make your own choice or click on "Select a Section" and choose an option in the Performer's Circle Orchestra to continue the process.
Other TPAC plays with that are interpreted and Open Captioned include:
-  Part of the Plan, September 17, 2017
-  Fun Home, October 15, 2017
-  An American in Paris, November 5, 2017
-  Les Misérables, November 19, 2017
-  The King and I, February 4, 2018
-  Cabaret, March 4, 2018
-  Wicked, April 8, 2018
-  Waitress the Musical, June 10, 2018
-  Love Never Dies, June 24, 2018