"Beau Jest" - Interpreted Play at Chaffin's Barn Dinner Theatre
Thursday, May 18, 2017 -

11:00am

to

2:15pm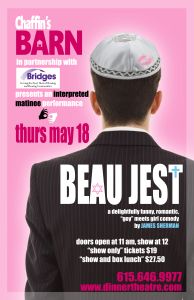 Alternate Email:
chaffinsreservations@yahoo.com
On Thursday, May 18, we will be partnering with Bridges for the Deaf and Hard of Hearing and will provide an interpreted showing of the comedic play, Beau Jest. It's play about a young woman whose overbearing mother wants her to marry a doctor. She lies and says she's dating a doctor.. So, when her mother insists on meeting him, she hires an actor to play the "perfect Jewish doctor of her mother's dreams." This actor soon realizes that he is in way over his head!
Reservations required.