HLAA Nashville Chapter Meeting
Saturday, April 8, 2017 - 12:00pm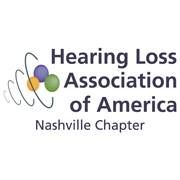 The meeting this month is CANCELlED!
Please join us at Bridges for the WellFEST 
(health screenings, booths, workshops, and a food truck will be provided on site.  Interpreters and CART will also be provided for workshops.)
We need volunteers to help at our booth at the WellFEST:  9:00am - 3:00pm.  Please contact Diana to let her know when you can help.
Bridges
935 Edgehill Avenue
Nashville, TN  37203