Nashville Shakespeare Festival presents "The Comedy of Errors"
Saturday, September 3, 2016 - 7:30pm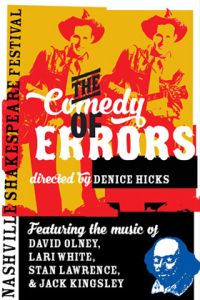 The Comedy of Errors​ will be interpreted in ASL. Plan to go early for the fun!  There are food trucks on site or you can bring a picnic dinner. The show is free, but there is a suggested $10 donation to the Nashville Shakespeare Festival at the gate.  There is a reserved seating section house left/stage right for Deaf/HH/Interpreter/ASL students.  Look for the interpreter's podium. Kids are welcome! So are dogs! Come have fun!
Shakespeare's shortest and zaniest play gets a uniquely Nashville spin with original music by David Olney, Lari White, Stan Lawrence and Jack Kingsley. Set in an Ephesus that looks a lot like Nashville in the late 1960s, this family-friendly comedy will get your toes tapping and your belly laughing. Two sets of identical twins, a troupe of madcap characters and a kicking country band will make this one of the most memorable evenings you'll have this summer.
Food & drink vendors open at 6:00pm
Talking Shakespeare with nightly special guest speakers begins at 6:00 p.m.
Preshow entertainment begins at 6:30 p.m.
Performance begins at 7:30 p.m.