Events Calendar
Primary tabs
For lectures to programs for children, come visit us at one of the library events and programs listed below. For more information, call 615-862-5750 or 1-800-342-3262.
Friday, September 18, 2020

to

Sunday, September 20, 2020
A Conference for H&V Chapter Leaders, H&V GBYS and ASTra Programs, Family Based Organizations, Parents of Children who are Deaf or Hard of Hearing, and the Professionals Who Work with Us
Exciting Leadership Topics!
• Building Cultural Resiliency in a Diverse Community
• Developing Parent Leaders: Where do Professionals Fit in?
• Influence vs Authority: Expanding your Influence to Create Giants of Others
• And more: Leading with joy, homeschooling, mental health, non-profit management, balancing life and leadership…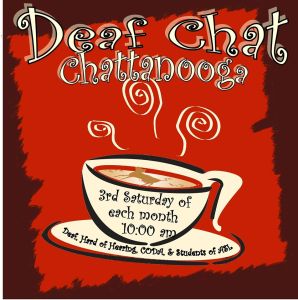 Saturday, September 19, 2020 -

10:00am

to

12:00pm
This group is open to people in the Chattanooga area who are Deaf, hard of hearing, or interested in American Sign Language. We meet every month at Starbucks at 2217 Hamilton Place Blvd near Hamilton Place Mall next to Acropolis.
This group has been meeting for the past 3 years on the 3rd Saturday every month from 10-12. Announcements for community events, activities or other information is usually around 11 AM, if you have something to share please come on out!