Events Calendar
Primary tabs
For lectures to programs for children, come visit us at one of the library events and programs listed below. For more information, call 615-862-5750 or 1-800-342-3262.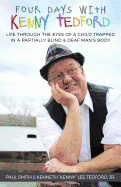 Monday, February 24, 2020 - 7:00pm
Kenny Tedford is one of two deaf people in the world with a Masters in Storytelling, which he earned at 55, after being told that he wouldn't complete the third grade. Kenny was born deaf, partially blind, and with partial paralysis. Kenny also suffers cognitive impairment. Despite all this, his life has been filled with joy, friends, and accomplishment. Come meet Kenny and author Paul Smith. A discussion will also take place.
An interpreter will be provided.