Events Calendar
Primary tabs
For lectures to programs for children, come visit us at one of the library events and programs listed below. For more information, call 615-862-5750 or 1-800-342-3262.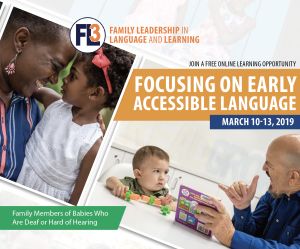 Sunday, March 10, 2019 - 12:00am

to

Wednesday, March 13, 2019 - 12:00am
Hands & Voices Family Leadership in Language and Learning (FL3)'s goal is to ensure that EHDI programs, supported by federal funding in the United States, use research-based concepts known to support families, parents, and caregivers of deaf or hard of hearing infants, toddlers, and young children identified through newborn hearing screening. We want what you want: for "our children" to reach optimal language, literacy, and social-emotional development.
PARTICIPATE IN THIS FIRST-EVER, FOUR-DAY, FREE ONLINE EXPERIENCE