Events Calendar
Primary tabs
For lectures to programs for children, come visit us at one of the library events and programs listed below. For more information, call 615-862-5750 or 1-800-342-3262.

Wednesday, June 11, 2014 - 12:00am

to

Friday, June 13, 2014 - 12:00am
After a stimulating first international conference last year it is our pleasure to invite you to the 2nd conference on family-centred early intervention for children who are deaf or hard of hearing in Bad Ischl, Austria, from June 11th to 13th 2014. The Scientific Programme Committee (Christine Yoshinaga-Itano, Gwen Carr and Daniel Holzinger) as well as the local Austrian organizing committee, has started to prepare an international event that once again aims to provide a platform for Early Intervention professionals, researchers and parents to exchange evidence-based best practice.
Friday, June 13, 2014 -

6:15pm

to

8:00pm
About Robin Roberts: Robin Roberts is the anchor of ABC's morning show Good Morning America. Under her leadership, the broadcast has won three consecutive Emmy Awards for Outstanding Morning program. Prior to that, Roberts was a contributor to ESPN. She is a native of Mississippi Gulf Coast and currently resides in New York City.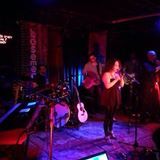 Friday, June 13, 2014 - 8:00pm
Madeleine Slate is a Toronto born, Nashville based singer/songwriter who is hard of hearing with a 60% hearing loss in both ears. Per Madeleine, when it came time to finish making my record this past Oct, I thought..."Am I only going to have a CD release party that only half of my friends are going to have fun at?" Never. So that's how this idea came about. My dream is to show the Deaf and Hard of Hearing community what I love about music, and to show the music community and other music fans what I love about ASL and the Deaf culture. Both communities that I feel so lucky to be a part of.