Events Calendar
Primary tabs
For lectures to programs for children, come visit us at one of the library events and programs listed below. For more information, call 615-862-5750 or 1-800-342-3262.
Saturday, November 2, 2013 -

10:00am

to

4:30pm
Hey Hillbillies! Spring is here! It is time to get out in the warm weather and I got tell you that there is one place that you all can come. It is THD's picnic! We are celebrating 6th Anniversary. 6 years already. It is you hillbillies that keep THD going and going.
The picnic will be on April 6th at Knoxville Center of the Deaf (KCD) in Knoxville from 10:30 am till 4:00 pm.
THD will be providing fried chicken and cake.
Saturday, November 2, 2013 -

1:00pm

to

5:00pm
Art Show and sale of original local Deaf artisans' works.
Deaf culture art is more than just a painting, drawing, or crafts. It brings the Deaf community together.  Deaf culture art puts the feelings and emotions that many Deaf people experience into a variety of media.
Exhibit is open: 
Monday, November 4 through Friday, December 27, 2013
9:00 AM - 4:30 PM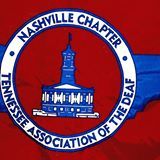 Saturday, November 2, 2013 -

2:00pm

to

6:00pm